The DARWIN Observatory can do neutrino physics as well
DARWIN will be very sensitive to the neutrinoless double beta decay of 136Xe -- even without any isotopic enrichment.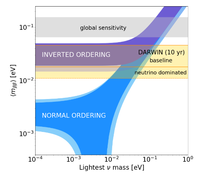 DARWIN's sensitivity to probe the neutrino hierarchy.
A new  study which was co-lead by the Freiburg ULTIMATE/DARWIN team shows that an ultimate liquid xenon (LXe)-based dark matter detector, such as the DARWIN observatory with its 40t target, is very sensitive to search for the neutrinoless double beta decay of 136Xe. This yet unobserved 2nd order weak transition would reveal that neutrinos are their own anti-particles (Majorana particles) and would give access to the neutrino mass.
The sensitivity study is based on a realistic baseline design of the DARWIN detector. It assumes only construction materials which have already been identified for other detectors, intrinsic backgrounds as required for the WIMP sensitivity and no expensive isotopic enrichment of the double beta decay candidate isotope. A tight fiducialization cut to a 5t LXe target reduces the background in the region of interest to <0.2 events/(t·yr), leading to a competitive sensitivity on the half life of 2.4×1027 years after 10 years of operation.