Group Members
Group Leader
Prof. Dr. Marc Schumann

Room: HighRise 601
Phone: +49 761 203-96894
XENON, ULTIMATE, DARWIN, low-background,
CAST, DAQ, SHiP

Senior Scientists / PostDocs
apl. Prof. Dr. Horst Fischer

Deputy group leader

Room: HighRise 609
Phone: +49 761 203-5813
CAST, COMPASS/AMBER, DARWIN, XENON, DAQ, SHiP


Dr. Adam Brown

Room: HighRise 604
Phone: +49 761 203-5728
ULTIMATE, DARWIN, XENON


Dr. Valerio d'Andrea

Room: HighRise 604
Phone: +49 761 203-5728
DARWIN, XENON


Dr. Fabian Kuger

Room: HighRise 604
Phone: +49 761 203-5728
ULTIMATE, DARWIN, XENON


Dr. Sebastian Lindemann

Room: HighRise 604
Phone: +49 761 203-5728
XENON, DARWIN, low-background


Dr. Gerhard Mallot

Room: CERN, Bat 892/RD-11
Phone: +41 2276 76423
COMPASS

PhD Students
Justin Baier

Room: HighRise 610
Phone: +49 761 203-5804
CAST

Daniel Baur

Room: HighRise 607
Phone: +49 761 203-5804
ULTIMATE, DARWIN


Robin Glade-Beucke

Room: HighRise 603
Phone: +49 761 203-5734
XENON


Jaron Grigat

Room: HighRise 610
Phone: +49 761 203-5804
XENON


Tiffany Luce

Room: HighRise 608
Phone: +49 761 203-5805
XENON


Fairhurst Lyons

Room: HighRise 610
Phone: +49 761 203-5804
SHiP


Julia Müller

Room: HighRise 603
Phone: +49 761 203-5734
XENON


Florian Tönnies

Room: HighRise 605
Phone: +49 761 203-5799
XENON

Master Students
Johannes Alt

Room: HighRise 605
Phone: +49 761 203-5799
SHiP


Luisa God

Room: HighRise 610
Phone: +49 761 203-5804
low-background


Mahyar Jadidi

Room: HighRise 610
Phone: +49 761 203-5804
SHiP


Baris Kiyim

Room: HighRise 605
Phone: +49 761 203-5799
ULTIMATE/DARWIN


Tim Molzberger

Room: HighRise 608
Phone: +49 761 203-5805
SHiP

Bachelor Students
Anne-Sophie Müller

Room: HighRise 608
Phone: +49 761 203-5805
SHiP

Hany Tekeste

Room: HighRise 605
Phone: +49 761 203-5799
SHiP
Technical Staff
Susanne Rombach-Mikl

group assistant

Room: HighRise 602
Phone: +49 761 203-5915

Davide Giusti

technician

Room: LNGS, Advanced Manufacturing Shop
Phone: xxx

NN

technician

Room: HighRise 602
Phone: xxx

Contact
Hall of Fame (since 2017)
Francesco Toschi, PhD
Dr. Darryl Masson, PostDoc 2018-2022
Jasper Seibert, BSc 2022
Jens Reininghaus, BSc 2022
Mike Moser, BSc 2022
Johannes Wenk, BSc 2022
Dr. Julia Dierle, PhD 20200
Dr. Diego Ramirez Garcia, PhD 2022
Johanna von Drachenfeld, BSc 2022
Jonathan Grieshaber, BSc 2022
Dr. Alexey Elykov, PhD 2022
Dr. Arianna Rocchetti, PhD 2021
Dr. Patrick Meinhardt, PhD 2021
Tim Molzberger, BSc 2021
Wolfgang Boemke, BSc 2021
Dominik Rifert, BSc 2021
Lukas Grunwald, BSc 2020
Anne Becker, BSc 2020
Johannes Alt, BSc 2020
Nikolina Sarcevic, 2017-2019
Alexander Bismark, BSc 2017, MSc 2019
Dr. Daniel Coderre, PostDoc 2013-2019
Sandro Scherrers, BSc+MSc 2019
Luisa God, BSc 2019
Thomas Kok, BSc 2019
Ingolf Kaufmann, BSc 2019
Baris Kiyim, BSc 2019
Christina Schwemmbauer, BSc 2019
Daniel Bahner, BSc, 2019
Jacques Hermes, BSc, 2018
René Kirsch, Polyvalenter BSc, 2018
Simon Stephan, BSc+HiWi, 2018
Greta Gambensi, Lehramt, 2018
Dr. Philipp Jörg, PhD 2017, PostDoc 2018, Visitor 2018
Jan Niclas Köhne, Lehramt, 2017
Dr. Max Büchele, PhD, 2017,
Steffen Ludwig, Lehramt, 2017
Dr. Florian Herrmann, PostDoc - 2017
Dr. Basho Kaminsky, PhD 2017 (thesis)
Michael Esser, Lehramt, 2017
Moritz Spreter, BSc, 2017
Robin Glade-Beucke, BSc, 2017
Miriam Jäger, BSc 2017
Emmanuel Dorbath, BSc 2017
Nico Strauss, BSc 2017, HiWi 2018
Dr. Lukas Bütikofer, PhD 2017 (thesis)
Rainer Fastner, technician -2017
Old group pictures...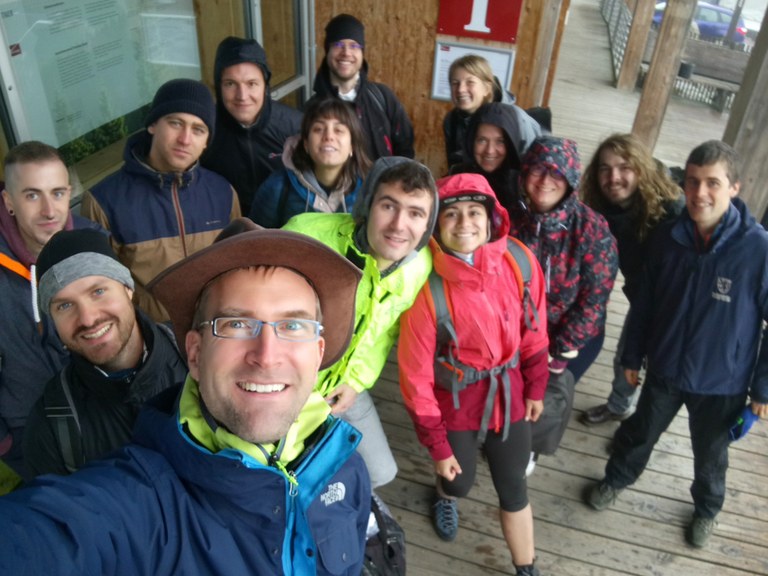 Group Event October 2020
From left to right: Justin, Fabian, Sebastian, Robin, Marc, Mariana, Darryl, Patrick, Julia, Arianna, Julia, Anne, Johannes. [missing] Horst, Matthias, Daniel, Alexey, Jaron, Diego, Francesco, Florian, Oscar, Manisha.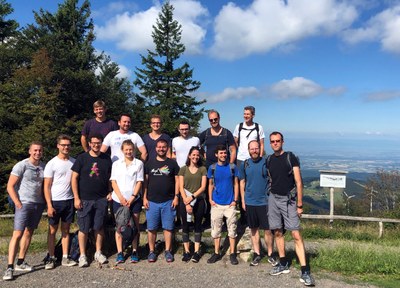 Group Event July 2019
From left to right [back row]: Sebastian, Alexey, Jaron, Daniel, Fabian, Horst, [front row]: Justin, Sandro, Francesco, Julia, Florian, Julia, Alex, Dan, Marc. [Missing]: Darryl, Arianna, Diego, Nikolina, Patrick, Luisa, Ingolf, Thomas.