Article in Physik Journal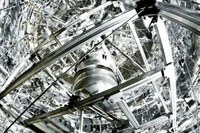 XENON1T Water Shield
Together with Teresa Marrodan Undagoitia (MPIK Heidelberg) and Uwe Oberlack (Mainz) Marc Schumann authored an article in the November edition of the Physik Journal of the German Physical Society (DPG). The article explains the basic principles of the direct detection of dark matter and presents the current status of the field.
Link to the journal page. (Full access to DPG members only.)
With more than 60'000 printed copies the Physik Journal is the most important physics journal in German language.